There can be a great distance between imagining how materials will function and look and how they actually do in reality. If you are not using a computer program that will calculate the weight, flexibility and strength of a material it is pretty much a process of hands on trail and error. I consider this part of the beauty and drama of making the Cocoon, and why the structure is very much alive and not a cold prefab.
The material for the circles that make up the inner structure of the Cocoon and bear the weight of the Cocoon skin must be flexible enough to make circles but not so flexible that they collaspe under the weight of the Cocoon skin. On Day 6 we ran into the drama and the beauty … more below.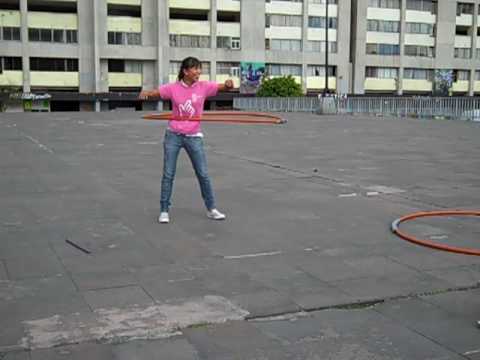 hula hooping with a 6 foot Poliducto circle
Early in the previous week we had solved for the over flexibility of the Poliducto by inserting a grey PVC inside the orange Poliducto. However, when we went to the Centro to pick it up the morning of the build there was only enough to make the 2 smallest circles each with a diameter of 6 feet. The Cocoon is made up of 10 large circles. Its availability for the next day was questionable. So we bought white PVC and brought it back on the top of the car.
Although similar in strength and circumference to the grey PVC, a fraction of a fraction makes a difference, and the white PVC didn't fit inside the Poliducto.
Much of Day 6 was spent in the world of trial and error experimenting with alternative materials and keeping to our build schedule. This also meant some travel time between the Centro and Tlatelolco.
Here we're reinforcing the joints on the two smallest circles with PVC, duct tape and huggers.
During the down time we made a pamphlet for Cocoon with drawings and descriptions of the build process. This would show and explain the process to people participating. See Diane Arciniego Castro's pamphlet here.
We talked through the process using some of my drawings and the photographs from a previous build in Cragsmoor, NY.
At the end of the day we found that by inserting a steel wire into a smaller more flexible white PVC and then inserting that into the orange Poliducto we were able to equal the strength and flexibility of the grey PVC and stay on schedule.
By then we had moved to the basement of the Centro Cultural Universitario Tlatelolco (former Foreign Ministry Building). The photograph in the background is from the 68 student protests in Mexico City.
Leave a Reply